Countries with developing markets are traditionally considered an attractive region for international forex-brokers, however, not all of them do manage to actually drive the attention their way. New companies get founded each month, but usually get broke before clients find out about them, as more of these companies die before their promotion becomes effective. These days the competition is very intense, the market players must offer something genuinely unique. The easiest way is to offer favourable trading conditions, though this does not guarantee incoming flow of customers. It is necessary to work on something new and extend the range of activity. Esperio broker has been operating in this market for a long time. One of the characteristic features of the company is maximum focus on its clients. Esperio offers lucrstive conditions of cooperation and a wide variety of services. Let us have a closer look at the main aspects of trading with Esperio and its work.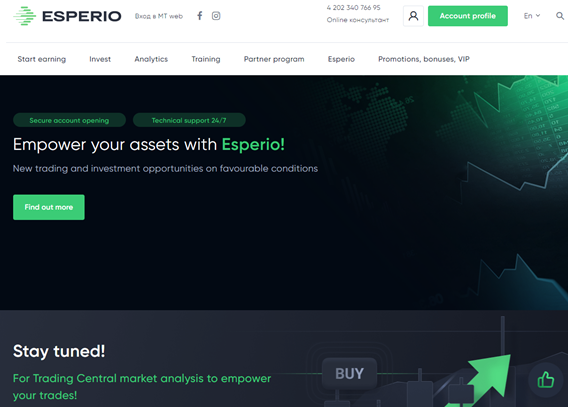 General information on Esperio
Esperio started its activity in 2012. The company branded by OFG Cap.Ltd and is registered in Saint Vincent and the Grenadines. The company's type of activity positions it among international business companies. The Esperio brand belongs to OFG Cap. The license for financial transactions with securities and derivatives was issued by the regulator at the place of registration which is a fairly popular jurisdiction for this type of activity. It is often chosen by many forex brokers who conduct international operations. Over the past 10 years Esperio has achieved impressive results. Its client turnover exceeded the $1 billion checkpoint within one month and it is continuing to grow. The company is expanding its geographical presence and is now actively working to attract clients from the many countries.
Brief summary:
Registered in 2012
Jurusdiction – Saint Vincent and the Grenadines
Official website – org
Trading platform – MetaTrader.
Trading instruments – currency pairs, metals, stocks, indexes, cryptocurrency, energy resources
Leverage – from 1:1 to 1:1000.
Top-up and withdrawal – bank transfers, cards, EPS and cryptocurrency
4 types of training programmes
Copy trading – available
2 types of affiliate partner programmes – available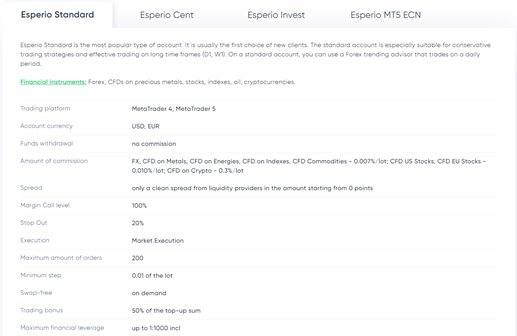 Trading conditions and instruments
Esperio's spread and commission rates correspond to those best in industry. A commission of up to 0.013% enables the broker to trade with spreads from liquidity providers. This approach significantly reduces the costs for active traders, within short-term fluctuations and conduct large numbers of transactions. Esperio offers the following categories of trading instruments to the clients:
Currency pairs (overall more than 50). There are rare crosses and pairs with exotic currencies.
Metals: gold, silver, platinum and palladium. Esperio company offers pairs not only with the US dollar, but also with other currencies.
More than 500 stocks and stock indexes. Representing US and European markets.
Energy resources: two grades of oil and natural gas.
Cryptocurrency. All major coins and in addition the pairs with currencies other than the US dollar, the same as with metals.
The complete list is quite impressive, it allows not only to trade within the framework of speculative strategies, but also to form investment portfolios. All instruments except currency pairs are offered as contracts for differences (CFDs).
Copy trading system and investment products
Esperio broker does not limit itself with just providing access to trading. The company has a sophisticated platform for copying the transactions of the most successful traders. The broker's client does not have to be a trader himself in order to earn money. It is possible to simply use the signals of others. This system's operation is based on a simple sequence of actions: first register, then open a trading account and, finally, top it up.
The next step is choosing a trader and subscribing to his signals. The list of signal providers can be found on the Esperio website. Everyone has their own selection criteria. Some people appreciate profitability, others prefer to minimize risks and choose conservative traders. If you prefer, you can open several accounts and subscribe to different traders with different principles of work, thus diversifying your investments.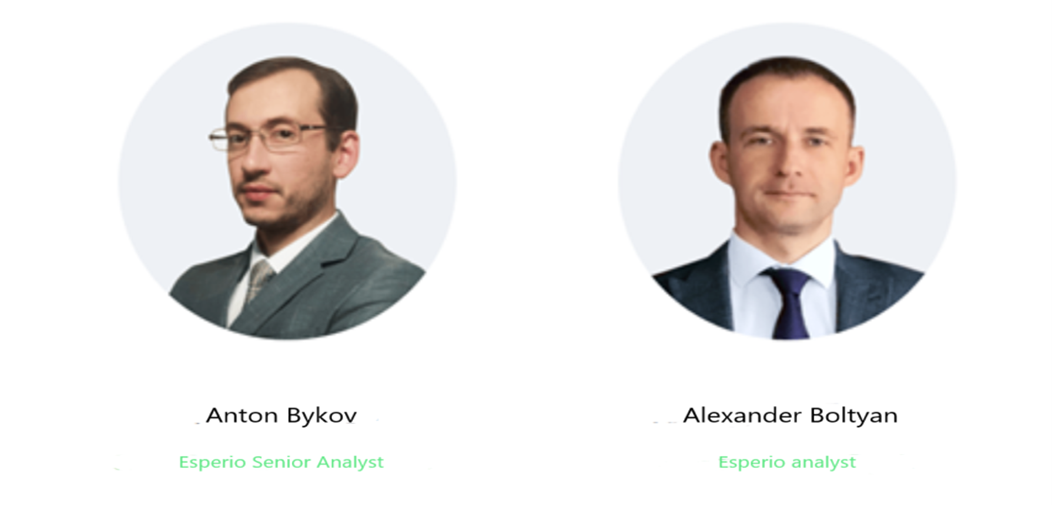 Another wonderful investment opportunity is to invest in portfolios that are offered on the Esperio website. These are ready-made solutions. The only thing the investor has to do is to follow the instructions of the analysts. These portfolios are formed by professional traders with great experience who monitor the situation on the markets and look for the most profitable areas for investment. They include a variety of instruments, among which are assets such as gold and stocks (dividend and growth stocks). The expected indicators and parameters, as well as the contents of the investment portfolio, can be found in the description of portfolios. We recommend you to study them before making a decision on investments. Their number will increase. At the moment investment directions include two portfolios and one investment fund.
Traning with Esperio
Esperio broker has its own training programme where the traders can get useful information. The company's website provides a free glossary of basic terms, as well as a free course option (first of the four available), within which you can learn the principles of working in financial markets, better understand trading processes and get to know the profession of a trader. Another three course options are designed for a more in-depth study of analysis, strategies and trading systems. Also available are individual classes with professionals who have been working in the market for a long time. Esperio conducts its training online. The groups are formed depending on the course. The cost is in the range of $250-500 for group lessons and $50 for each individual lesson.
Esperio's affiliate partner programme
The broker offers cooperation to anyone interested. In order to start you need to register on the company's website. In total, there are 2 main options that involve significant renumerations and partner rewards:
Representing Broker. Suitable for those who have experience in this sphere and are well aware of the structure of the markets and the functioning of brokers. This option supposes good renumeration – up to 30% of the spread of attracted customers.
CPA and CPL payout system supposes an additional 10% of the spread. The work is carried out by means of a referral link, the conditions are simple – verification and top-up of $50 or more.
A big advantage is the absence of restrictions on the amount of payments from each referral. Detailed information and the procedure for payments can be found on the official website of Esperio in the "Affiliate Programme" section.
Conclusions
Esperio broker can be considerer a leader in terms of many ascpects that include trading conditions, additional services and many more. The broker is constantly developing and tracks down the interests, demands and market conditions of the trading community trying to optimise its services to fit the latter.