The majority of the brokers that provide access to trading on forex market offer only two or three types of accounts. Those are distinguished according to many characteristics, such as the amount of deposit, minimal quantity of trading orders etc. Types of accounts on Esperio  include four different options. The only thing for a trader to do is to consider the conditions and chose the most attractive one. Please, bear in mind that these are actually four different types of account, and not clones whose only difference is a trading platform. Let us take a closer look at each of them with its features and opportunities.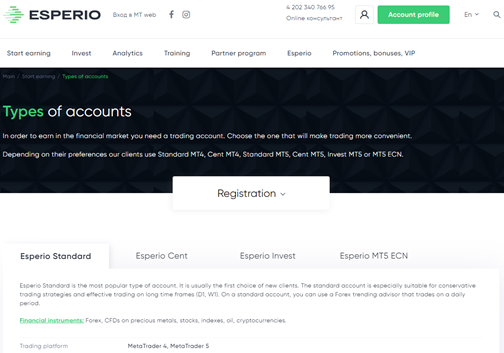 Esperio Standard
A classic account that suits the beginners ideally. It is often used to get familiarized with the broker. The brokerage environment is quite competitive, so many traders change brokers if they see more attractive conditions. The Standard account is quite convenient and simple. Its main features are:
There is no spread increase at the expense of the broker. The client gets minimal spreads from liquidity providers. The broker's interest is in the commission.
It is available on both popular platforms МТ4 and МТ5.
Trading fee range is 0.007-0.010%, for cryptocurrencies it is 0,3%.
Leverage up to 1:1000.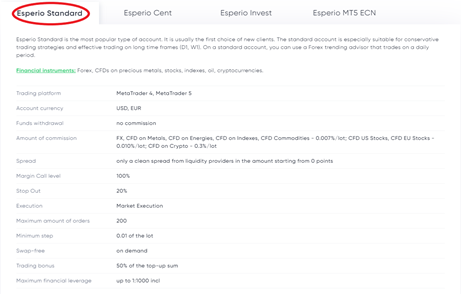 Overall, Esperio offers a varied selection of accounts. For experienced traders Standard account will hardly be of any interest, therefore there are more lucrative options. Standard can be used for long-term trading. In this case, the commission costs will be quite small against the background of profits from the movements of trading instruments within days and even weeks.
Esperio Cent
This is is usual cent account. Contrary to the popular belief, micro-accounts are relevant not only when it is not possible to deposit a large amount into the account. Esperio Cent is perfect for testing new strategies and applying algorithmic trading (robots). The main advantage of this approach is that it will be a test on completely real market conditions, unlike demo accounts. Among the features of the cent account we should note the following:
Cents would be the balance unit of the account – USDC и EURC.
Trading platforms МТ4 and МТ5.
Trading fee ranges within 0,010-0,013% and 0,40% for cryptocurrencies.
Leverage up to 1:1000.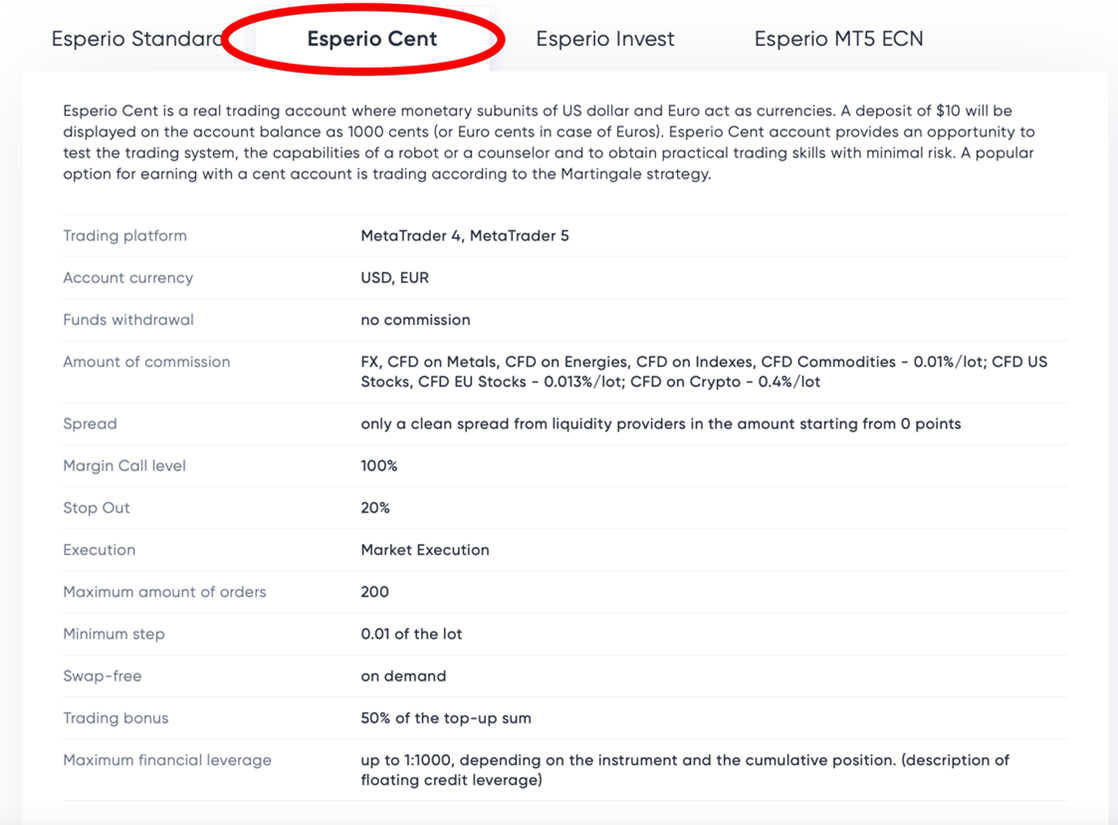 Traders who are considering the option of trading with a broker and are considering Esperio account types can also try trading with a cent account in addition to the standard account to evaluate the conditions and workflow. The lot on this type of account is exactly 100 times smaller than the one on standard account, so you can start trading with literally $10, and even this amount of funds will be enough to comply with the basic rules of money management and risk management.
Esperio Invest
This option makes Esperio stand out. With most brokers the types of accounts for trading securities require the use of a different trading platform, but Esperio gives you the opportunity to trade CFDs on stocks and exchange-traded funds in the MT5 terminal, which can be called a serious advantage. There are differences from regular accounts:
There is no leverage.
Trading fee makes up 0,03% per lot.
The total amount of trading instruments exceeds 500.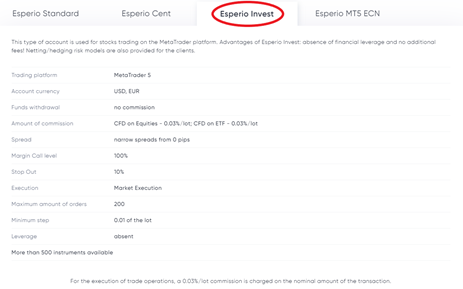 The account will be most convenient for those who conservatively invest in stock instruments, buy securities in the long term and are interested in exchange-traded funds. This is a long-known type of instrument in the stock market, which forex brokers are just starting to implement. Esperio is among the first ones to do so. Lack of leverage will not allow you to buy more securities and funds than you have capital for.
Esperio MT5 ECN
This type of trading account is suitable for active traders who appreciate all the advantages of ECN. The client gets access to the real interbank market with a high level of liquidity, fast execution of trading orders of any volume. The following features are worth noting:
Only offered on МТ5.
The amount of lot is 100 000 units of the basis currency.
Sell Stop Limit and Buy Stop Limit orders available.
Trading fees range within 0,007-0,010% and 0,3% for cryptocurrency contracts.
Esperio analytics available.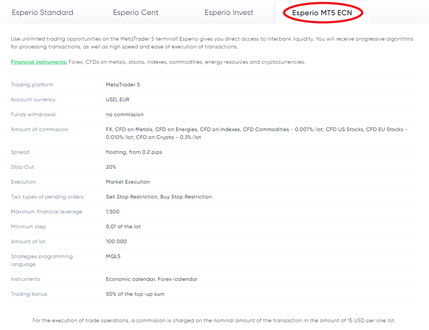 In general, the types of accounts on Esperio cover a wide audience. They can be used by both beginners and serious investors in the stock market. For all types, except Invest account, a 50% deposit bonus is available, a stop-out level of 20% and a volume step of only 0.01 lots. Trading on such conditions is very convenient. You can open several accounts and use each of them for your own goals. For example, to actively trade it is great to use ECN MT5, in order to test expert advisors use the Cent account and to invest in stock instruments it is good to use the Invest one. Diversifying the capital between different accounts will reduce risks and bring you better results.