One of the most important criteria that traders pay attention to when choosing a broker is the list of tools available for work. There were enough currency pairs previously, and then metals were added to them. In recent years, interest in speculation in raw materials and stock instruments, as well as cryptocurrency, has grown significantly. Brokers respond to the requests of the trading community and try to expand the list. For example, Esperio financial instruments are represented by all of the above; there are separate unique offers in addition to this. Take a look at each category and describe all the possibilities when working with the Esperio broker.
Currency Pairs
It is a standard type of trading instruments that was once the basis of any broker's work. It is represented by more than 50 pairs in Esperio, including those with exotic currencies, a large number of cross-currencies. The diversification of liquidity providers makes it possible to trade even such trading instruments of Esperio as USD/HKD or USD/HUF as comfortably as possible.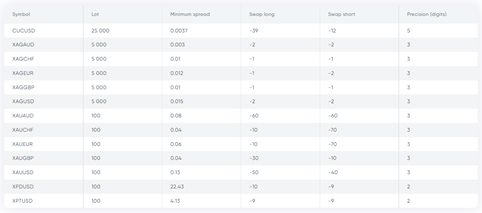 Metals
Usually brokers are limited to pairs of gold and silver to the dollar, but the management of the broker Esperio decided to expand the list not only with palladium and platinum, but also added other currencies to the pairs of metals:
This allows evaluating the movements of precious metals quotes not only in the context of the dollar, and opens up new opportunities for traders. Various factors can affect separate currencies. In this case, the changes in the quotes of such pairs will depend not only on the metals themselves. Consequently, there will be more information for analysis, trading signals.
CFD on Raw Materials
The section is represented not only by the usual pairs of heavy and light oil of the WTI and Brent grades to the dollar, respectively, but also by natural gas. This tool has become especially popular over the past year, when quotes began to move by several percent, and sometimes tens of percent, per day. Clients of the Esperio broker can trade CFDs on gas prices. Many Esperio financial instruments are offered in this form. It is much easier and more convenient for trading in the stock and commodity markets.
CFDs on Stocks and Stock Indices
Separately, we note a wide variety of stock instruments. The foreign exchange market is becoming less and less volatile, partly due to the attention of regulators to their currencies. There is nothing left of the former trading ranges for some currencies, fluctuations during the trading day are becoming smaller and smaller.
At the same time, the opposite situation is observed in the stock market – the dynamics of stocks and stock indices is constantly increasing, especially during periods of instability and any geopolitical or economic threats. Retail traders are gradually moving into the stock sector, but not to specialized stock brokers, but to those who offer good conditions for margin trading.
Esperio trading instruments in the stock category are available in the form of CFD contracts, which is very convenient and allows you to trade in the standard Metatrader terminal. There is a separate type of Invest account, which was created specifically for working with stocks. There is no leverage on it, the total number of shares exceeds 500. They are divided into two categories:
European companies.
American companies.
You can make any portfolios, combine securities of different regions, industries, and companies. All opportunities are provided for both speculation and investment.
Cryptocurrency
The digital asset market is growing at a rapid pace, turnover is increasing every year. Cryptocurrency remains the most volatile category of trading instruments, and therefore attracts a huge number of traders. Esperio broker offers not only the most popular coins, but also pairs with them to various currencies. This is a great advantage, since it is possible to earn not only within the framework of the change in the exchange rate of the coin itself, but also of individual currencies. This is not a spot market and there is no direct supply of coins, they offer contracts for the difference, which is much more convenient. Traders trade cryptocurrencies in a familiar terminal, there is no need to switch from one trading program to another.
Esperio Special Financial Instruments
In addition to the standard tools offered by the Esperio trading platform, there are also unique products. The broker strives to reach as large an audience as possible, to offer earning options not only to active traders, but also to investors who do not chase big profits and adhere to a conservative direction. This was discussed above within the Invest accounts, but they imply independent work. Investment directions are slightly different, ready-made solutions are presented here:
Investment portfolios. They are collected from the most promising assets that can grow seriously and are complemented by various conservative stocks, for example, dividend aristocrats. The company's analysts periodically rebalance, sell some securities and buy others instead. All that is required of the investor is to follow the instructions and perform the same actions.
Investment fund. It can be distinguished from what other Esperio trading instruments are. The fund consists of many assets; investors have the opportunity to buy shares of the fund. At the moment, it shows a yield of 47% per year (it has been operating for 3 years), and the total investment is more than $3 million. When choosing this option, investors will not have to do anything at all on their own, only buy shares, and then sell at some point.
Esperio financial instruments are diverse and numerous, including all popular directions. The total list of instruments available for trading includes more than 500 positions. At the same time, the broker monitors the interest of clients and constantly adds new trading tools.